This is an IELTS writing task 1 sample answer essay on the topic of patients visiting a clinic from 2010 to 2016.
IELTS Task 1: Patients Visiting a Clinic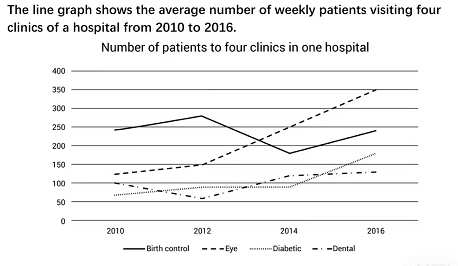 Analysis
Paraphrase what the bar chart shows.
Write a clear overview summarising the differences and the overall trend.
This one is a little complex so it needs a second sentence for the overview.
Begin writing about the data for the first categories.
Compare between each sentence.
Write about the final other parts of the graph – include everything!
Compare the categories.
Vocabulary
Answers
Pronunciation
Practice saying the vocabulary below and use this tip about Google voice search:
kəmˈpeəz 
ˈævərɪʤ ˌvɪzɪˈteɪʃᵊn ˈfɪɡəz fɔː ˈpeɪʃənts 
ˈklɪnɪks 
spɪˈsɪfɪk ˈhɒspɪtᵊl ˈwiːkli 
ɪn ˈʤɛnərəl 
ɪt ɪz ˈnəʊtɪsəbᵊl ðæt 
ɔːl taɪps ɒv ˈvɪzɪts ɪkˈsɛpt fɔː bɜːθ kənˈtrəʊl 
ʌnˈʧeɪnʤd ˈəʊvərɔːl 
aɪ ˈɪʃuːz 
məʊst ˈkɒmən ˈəʊvə ðə ˈpɪəriəd 
ˌəʊvəˈteɪkɪŋ 
waɪl 
ˌdaɪəˈbɛtɪk 
ˈdɛntᵊl 
ˈləʊə θruːˈaʊt 
ˈnɪəli 
rɪˈleɪtɪd tuː bɜːθ kənˈtrəʊl ɪn 
ˈfɪɡə 
rəʊz tuː ə piːk ɒv 
bɪˈfɔːr ə ʃɑːp dɪˈklaɪn tuː 
kəmˈpliːt rɪˈkʌvəri tuː 
ˈstɑːtɪŋ ˈfɪɡə baɪ ði ɛnd ɒv ðə taɪm sɜːˈveɪd 
ɪn ˈkɒntrɑːst 
kənˈsɜːnɪŋ aɪ ˈɪʃuːz ˈstɑːtɪd ˈləʊər æt 
ɡruː ˈnɛɡlɪʤəbᵊli ˈəʊvə ðə nɛkst tuː jɪəz 
ˈpraɪə tuː ˈsɜːʤɪŋ 
tuː ə haɪ pɔɪnt, ˈrɛlətɪv tuː 
ˌdaɪəˈbɛtɪk 
ˈdɛntᵊl 
kənˈsɪstəntli lɛs ˈkɒmən wɪð ðə ˈfɔːmə bɪˈɡɪnɪŋ æt 
ˈraɪzɪŋ ˈstɛdɪli tuː ˈplætəʊ ˈʌndə 
ˈfɪnɪʃɪŋ ðə ˈpɪəriəd wɪð ə ʃɑːp ʌp tɪk tuː 
ˈlætə 
fɛl tuː hɑːf ðæt ˈnʌmbər ɪn 
mɔː ðæn rɪˈkʌvəd tuː 
ɡruː ˈmɑːʤɪnəli ɪn ðə ˈfaɪnᵊl tuː jɪəz rɪˈkɔːdɪd 
Vocabulary Practice
Listening Practice
Reading Practice
Speaking Practice
Health
How often do people in your country go to the doctor?
Are doctors always trustworthy?
How will hospitals change in the future?
Is traditional medicine an important part of your culture?
What makes a person healthy?
Writing Practice